PCS Web Design News Archive
Parker Island Growth Strategy Advisors, LLC contacted PCS Web Design to discuss building them a website that would accurately portray their services. A minimal design and pleasing color palette built around images provided by the owner was the focus of this basic business website. The results demonstrate the truth behind the saying that sometimes "less is more." If you have a business or product that targets a niche market, perhaps a less is more approach would work for you as well.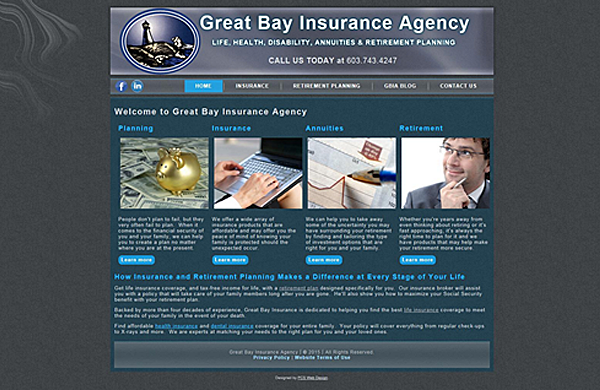 Great Bay Insurance Agency's owner, Sandy Salava, came to PCS Web Design when he was faced with some pretty challenging obstacles to the agency's existing website. Issues surrounding his domains registrations and hosting threatened his online presence with completely disappearing. PCS Web Design was able to work on behalf of the owner to secure the transfer and ownership of a second-choice domain as well as subsequently secure the transfer and ownership of an original domain name to their control. Regaining control of the original domain saved the owner time and money because it allowed him to use existing promotional materials and sales collateral printed with this domain. Concurrently, PCS Web Design built a responsive, mobile-friendly, CMS-enabled website to replace their outdated design. Sandy makes it a point to connect with his clients personally and his new website let's him start that conversation off on the right foot.
RLSafeHome is helping keep seniors in the Seacoast area of NH, Southern Maine, and Northeastern Massachusetts in their homes longer with products that make aging at home safer and more secure. RLSafeHome's new website designed by PCS Web Design helps them to reach their target market in their preferred service areas with a mobile-friendly, CMS-enabled website that let's them tell the whole story with words, audio, and video content hosted directly on their website.
HTCS High Tech Consulting Service represents CMS (that's Contract Manufacturing Services) and high-technology component manufacturers and needed a CMS-enabled (as in Content Management System) website to reach its target market. With an active show schedule that's featured prominently on their homepage, potential clients can easily find out when and where they can meet and speak directly with the company's founder and president. Utilizing a responsive design that's mobile-friendly, potential clients searching for the company from their mobile devices can easily connect with them at show venues anywhere in the world.
PCS Web Design loves working with creative individuals. PCS' owner, Jim Fontaine, happens to be married to this professional animal portrait artist, so you could say this website was a labor of love! That being said, there's no doubt that this website showcases the artist's talent. Donna was very pleased with the results and the fact that commissions from other areas of the country began coming in almost immediately demonstrates the impact that a professionally designed website can have for any business.