PCS Web Design News Archive
BBD Publishing needed a website to promote its authors and to handle sales of the titles it publishes. A CMS-enabled website with ecommerce capabilities was the ultimate goal and that's exactly what PCS Web Design built. Fun and colorful with an obviously book-oriented theme, the look-and-feel of the website was carried over to printed materials such as business cards and bookmarks to further promote the brand. Direct to consumer sales via the ecommerce capabilities makes it easy for referral sales and follow-on sales from give-away items at book signings or author appearances. A responsive design supports display on mobile devices.
The Knox Historical Museum, located in Barbourville Kentucky, contacted PCS Web Design and after several presentations and discussions the rest, as they say, is history! This CMS-enabled website with e-commerce capabilities gives this museum a large online presence that has attracted people from across the U.S.A. to visit or revisit their local history. An extensive collection of photographs, their award-winning newsletter - The Knox Countian - and an extensive collection of written and oral history recordings make this small museum a literal treasure trove for anyone interested in the history of Knox County, Kentucky. Regularly scheduled remote training sessions help to keep the museum's all-volunteer staff efficient and productive in adding more and more content from the museum's collections to their website as well as items for sale in their online Museum Store.
Benchmark Printing Services provides a wide variety of printed items and is known for their exceptional customer service. If you have a need for printed goods, we highly recommend Benchmark. Ask for Larry and tell him 'Web Guy' referred you. We have been doing business with Benchmark for more than 5 years and they never fail to completely satisfy both us and many of our clients as well. If it can be printed, Benchmark can do it. (They do not do promotional products.)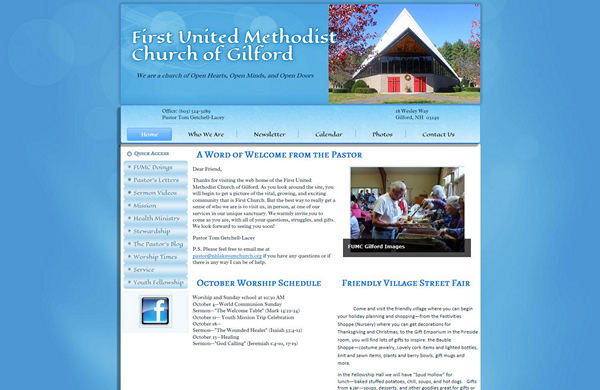 PCS Web Design was originally asked if they could help this church with their existing website. We did and about a year later, after having provided a website design to a member of their congregation, we were invited to build a new CMS-enabled website for the church. The website allows the staff to manage this very active church's content including sermon videos and the many programs extended to the community.