PCS Web Design News Archive
Unbeknownst to PCS Web Design, Locke Associates, Inc. has been its neighbor for 20 years. So, when owner Maggie Locke-Emerson contacted us, we had plenty in common. Locke Associates, Inc. has a solid reputation and was considering some rebranding. PCS Web Design builds web presence and, therefore, its design services encompass much more than just building attractive, functional websites. PCS has been able to help guide Locke Associates on how their brand should flow seamlessly across all of their visual collateral - including their website - so that both existing and potential clients will easily and readily recognize Locke Associates no matter how they interact with or are introduced to their services. Here's to another 20 years, Maggie!
The Point of View Inn in Meredith, NH is a unique, owner-operated, lakefront vacation rental property. When it comes to rental properties, "A picture's worth a thousand words." PCS Web Design built a CMS-enabled website that allows the busines owner to update one of the most important selling features of this property: the unbelievable sunsets afforded their guests. Of course, there's also a boatload (pardon the pun) of things to do while vacationing on NH's Lake Winnipesaukee and their website provides the potential vacation guest looking to make Meredith, NH their destination ample reasons to come and stay at the Point of View.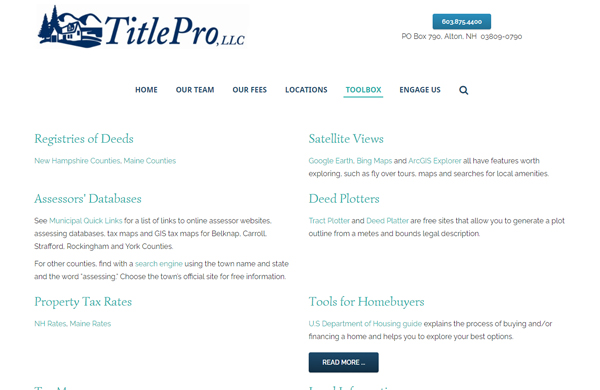 PCS Web Design loves helping local clients to be more successful by making websites that not only work, but work the way a client wants their website to work. If you have long-established business processes that work for you, then you shouldn't have to change them just because newer technology exists. TitlePro's success doesn't rely on technology, but as the real estate closing process has become more and more technical, it's important to have professionals who understand how that technology impacts you. PCS Web Design knows how to make web-oriented technologies work - period - and that's why TitlePro's website works for them so that they can provide the services that work for you.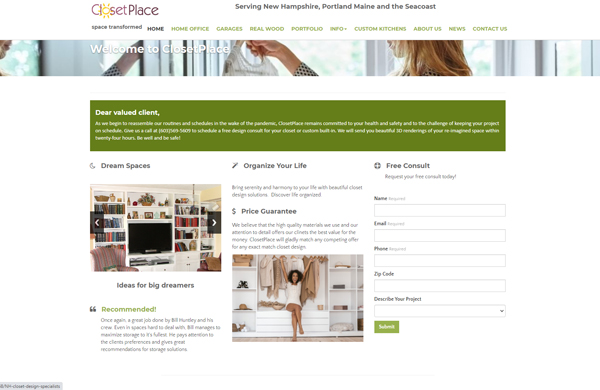 Closetplace and PCS Web Design have known each other for many years, having originally met while participating in a NH Microcredit initiative during the early 2000's which led to the creation of their own group, then known as BIG - the Business Investment Group. Bill Huntley, co-owner of Closetplace and a real do-it-yourselfer, rolled up his sleeves early on and built a website that has served his company well. However, their website began suffering from frequent outages and issues caused by their hosting provider's frequent and often unannounced changes to their hosting environment. That's where PCS Web Design was able to provide real added-value: as a reseller of world-class hosting services provided by Pair Networks and domain registrations through Pair Domains, PCS Web Design was able to migrate Closetplace's existing website and domain names to its hosting platform and registrar as well as provide complete e-mail services. Now Bill can continue to manage Closetplace's website using the CMS tool he's familiar with without any of the issues previously experienced causing unwarranted disruptions to their company's website.
PCS Web Design was asked to attend a Board of Directors' meeting of the Belknap Range Conservation Coalition after having met one of its Board members at a meeting of the Alton Centennial Rotary Club. It was apparent that this non-profit needed a website to help reach a wider audience and to communicate information about all of the projects that the Coalition was undertaking. As a strong supporter of both conservation and environmental protection organizations, PCS Web Design provided a quote with a significant portion of the Coalition's investment covered by an in-kind donation of its services.