PCS Web Design News Archive
The owner of PCS Web Design, a Rotarian, donated his time and talent to design and create the Polio Campaign 35 website following a discussion with another member of the Alton Centennial Rotary Club about a fund-raising idea that centered on Rotarians in their club making a commitment to make three donations of $3.50 during the month of November. The website was created to share this idea with the sixty Rotary Clubs in District 7870. The aforementioned member of the Alton Centennial Rotary Club, ADG David Countway, and his wife Sylvia made a personal trip to Pakistan in 2012 to participate in Rotary sponsored Immunization Days. Since making that trip, David has inspired and worked with other Rotarians throughout District 7870 to keep Rotary's efforts to End Polio Now always in our thoughts. And, if all goes as planned, by the end of 2018 the world will see the end of this devastating disease.
Signature Events owner Amy Piper, a premier event and wedding planner, had some pretty specific ideas when she had her website originally designed. In fact, it was very important to her that the look-and-feel of her new website not change significantly. PCS Web Design was tasked with upgrading the original static website to a CMS-enabled design so that the business owner could update and add new photos to her extensive galleries efficiently without having to dig into any HTML or CSS. The results, which took some planning (no pun intended!), spoke for themselves - the new website looks and behaves almost identically to the original but it is now on a powerful, robust, and stable CMS platform.
Image Awnings is a local manufacturer and installer of custom Residential and Commercial Awnings and Boat House and Dock Canopies. They've been providing their services throughout New Hampshire since 1988. When they needed to update their website, they selected PCS Web Design for the job. PCS Web Design, as a member of the Wolfeboro Chamber of Commerce, has a fair amount of clients in the greater Wolfeboro area and Image Awnings was able to see the level of expertise and knowledge that PCS brought to the table in helping these businesses. All in all, it was a great match -- while Image Awnings has their clients covered, PCS has Image Awnings covered, too!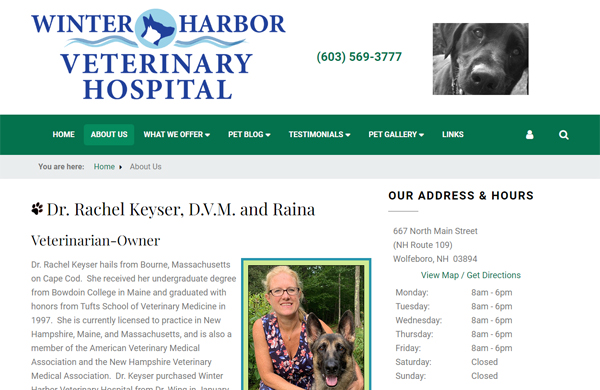 When Winter Harbor Veterinary Clinic wanted the ability to manage their website in-house as well as integrate and manage their client e-mail list they sought out the expertise of PCS Web Design's owner James Fontaine who just happens to be a client as well. We have a very special relationship with Winter Harbor since Dr. Wing diagnosed one of our pets with IMHA and we credit her quick diagnosis with saving the life of our girl Kameko. (For more on that story, see http://www.helpshelterpets.com/meet-the-cofounders.html)
"It was a pleasure working with Dr. Wing and her staff to develop a site that gave them everything they wanted and more." states James. I wish every pet owner had the same kind of care and expertise available to them as we are fortunate to have in Dr. Wing and the caring staff at Winter Harbor.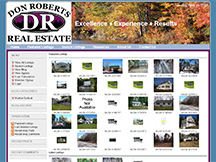 Don Roberts Real Estate had PCS Web Design develop an interim website while the business was first growing. The website was MLS-integrated to handle the growing needs of this dynamic real estate firm in the Lakes Region of NH. The site allowed property seekers to create user accounts where they could easily store their favorite searches and receive notifications when new properties matching their specific criteria were listed on the site. Contacting the agents for a listed property was made easy and simple. Other broker and agent features - all geared towards making real estate sales streamlined - were accessible through an advanced administration control panel.
If you're looking for a waterfront, vacation, or second home in the Lakes Region of New Hampshire, be sure to visit http://www.DonRobertsRE.com - they are the experts when it comes to these property types.
(NOTE: Don Roberts Real Estate is now using a website solution from a different provider. However, PCS Web Design maintains a professional working relationship with and still provides ongoing services to the firm including graphic and print services as well as technology advisory services.)