PCS Web Design News Archive
The Cottages at Tower Hill's new owner wanted a website that could showcase all of the improvements being made to this summer vacation rentals destination in Laconia, NH within walking distance to Weirs Beach. The upgrades to the rental cottages and amenities was mirrored in the upgrade to the establishment's website. Repeat guests are increasing and the Client Comments are helping to spread the word about this vacation destination.
The Cogswell Benevolent Trust is the largest privately managed Trust in New Hampshire. In continuous operation since its establishment in 1929, the Trust grants funds according to the Founder's original wishes expressed in his will. PCS Web Design built a basic business website that is mobile-friendly and helps to streamline their grant application process.
A local towing company needed an online presence to help it get found by people in need of local tows. With a mobile-friendly design, people searching from their smartphones while in need of tow services are able to locate this professional service provider's basic business website without any problems.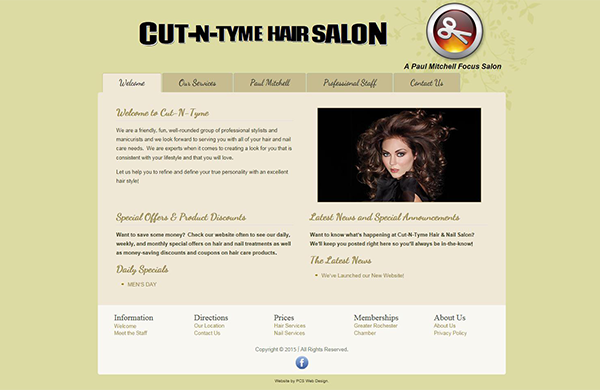 Cut-N-Tyme's co-owner's knew they needed a new look for their website. PCS Web Design was able to create a website that incorporated their personal vision as well as a color palette taken from the salon's actual interior! A CMS-enabled design lets the owners update their website with daily, weekly, and monthly specials as well as feature their staff members' profiles.
PCS Web Design was approached by a graduate of Massachusetts Maritime Academy, class of 1959, to build a CMS-enabled website that would allow he and his fellow classmates to communicate and plan for their 55th class reunion. The reunion was a success and the site fostered communication between some of the classmates who hadn't seen each other in quite a few years. The site has a 'classmates only' section where stories, information, and even recipes can be shared among the classmates.